Rita Kong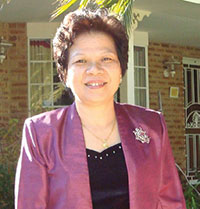 Before Reliv: I am a retired headmistress and 65 years old. I have dealt with frozen shoulder symptoms. My shoulders are stiff and I have joint discomfort. I've also experienced discomfort on the bottom of my heels in the mornings when I wake up. My doctor has given me medication to try as well as advise me to do phys­iotherapy. Nothing seemed to help. Just after doing several sessions of physiother­apy, I stopped going because I didn't see any improvement. My arm movement remained limited.

Because of Reliv: When Reliv was intro­duced to me, I started taking the prod­ucts as normal supplements. At first, I didn't realize that it was helping me. The discomfort and stiffness I felt in my shoulder started to lessen with just taking two Reliv shakes a day. To my surprise, the discomfort I felt on my heels reduced gradually without me realizing it.

I've been consuming Reliv shakes since 2004. My family and I are enjoying all the great health benefits that come with tak­ing these shakes. We will always take Reliv!