2018 Win Your Way - Singapore-Kuala Lumpur-Singapore Cruise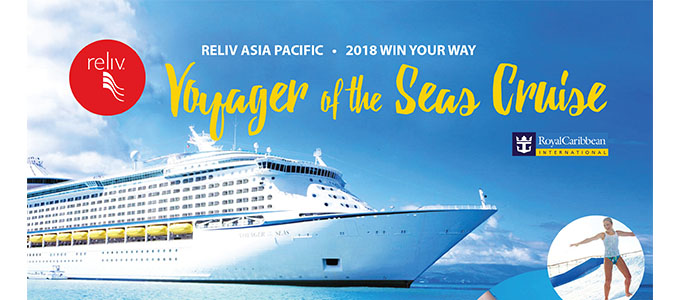 Qualification Period: 1 September to 28 February 2018

Reliv Asia Pacific invites you to climb aboard the Royal Caribbean Voyager of the Seas cruise line for a 3 night, 4 day weekend excursion to Port Klang, departing 17-21 May 2018.

Day 1: Depart from Singapore inclusive of multi-ethnic culture, fine dining and attractions as we travel to Kuala Lumpur's Port Klang.
Day 2: Explore Port Klang and the bustling hub of mega-malls and skyscrapers as well as heritage architecture and multicultural ambiance in districts like Merdeka Square, Chinatown and Little India.
Day 3: Cruise and enjoy the ambience and experience the luxurious onboard attractions such as a relaxing spa massage, inspring shows, mini golf or simply take in the gorgeous view poolside.
Day 4: Arrive back to Singapore and relive the memories.


EXTRA INCENTIVE
The three (3) Distributorships with the highest PGPV during the qualification period will receive a special invitation to the 2018 President's Team.
BONUS DRAW!
New Master Affiliates who sign up during the qualification period and personally sponsors 3 new Distributors will go into a draw to join the Win Your Way Cruise for 2 people!

Set your sights on this fantastic voyage and start qualifying today!